Chloe D'Souza, Roberta Sykes and AAA Scholar
There's no stopping Chloe D'Souza, proud Noongar woman and Roberta Sykes, Monash and AAA scholar, as she heads to the US to start her Master of Laws (LLM) at Harvard University.
Chloe has set her sights on becoming Australia's Indigenous Affairs Minister so she can drive policy reform and champion Indigenous rights at the highest level and is working hard to make that a reality. The first in her family to be accepted into university, Chloe was admitted to the Supreme Court of WA as a legal practitioner. Chloe is now studying internationally so she can develop a solid understanding of what works best overseas and bring those insights back to Australia.
Chloe was on the 2018 Aurora Study Tour which was a turning point in her academic journey as she realised her dreams of studying overseas could become reality.
"The Study Tour was a life changing experience. It was amazing to be surrounded by other Indigenous students who wanted to make a bigger impact in their work, we instantly connected like family. I began to see a place for myself at some of these universities, something I always thought was far out of my reach. The Study Tour helped me gain the confidence to make the decision to start applying to study at a Masters level in the USA. I owe a lot of where I am now to this experience and the Aurora Education Foundation."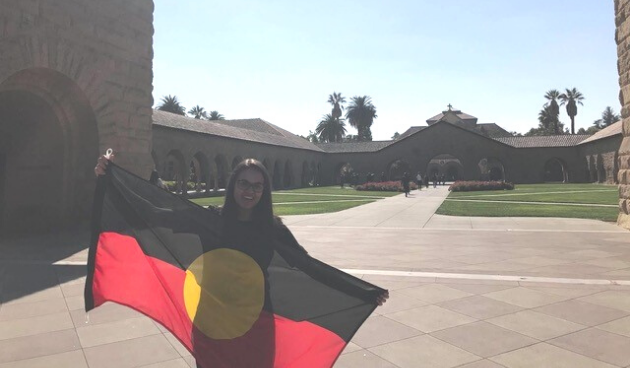 With Chloe's LLM focusing predominantly on human rights, she is also looking forward to broadening her learning, discovering different areas of the law and collaborating with her peers on certain projects.
"For me, a big part of the experience is the people I will connect with. Harvard is home to some of the best professors and academics, all of these people are so approachable and want students to connect with them for more learning opportunities. I'm also surrounded by amazing students from all over the world, all with unique stories. I'm really just excited to have this learning opportunity in general."
As an Aboriginal woman, Chloe has found herself in many conversations explaining her heritage and the experience of Indigenous people in Australia historically and to date. Chloe would like the experiences of Australia's First Nations People to be more broadly known around the world but, since being at Harvard, she has enjoyed having the chance to explain to people who don't have a pre-conceptions of Aboriginal and Torres Strait Islander peoples.
"That's the refreshing part – at home, I'm often met with people giving me their opinions on what Indigenous people should be doing, what success should look like for us, what areas we should be working in to make change etc. Here, I get to define myself in my own words and my peers have been really curious and interested in who I am. I feel proud to share my culture and identity as a Noongar woman all the way across the world."
At Aurora, our role is to inspire First Peoples in their educational journeys and in turn, build Indigenous leadership. For Chloe, leadership has always been about having a strong community presence with good listening, advocacy skills, a focus on building respect, and empowering others.
"When I think about Indigenous leadership, I think about the work behind the Uluru Statement from the Heart and the work of the Referendum Council. That was an example of true consultation, led by Aboriginal leaders who genuinely listened to community and provided a platform for Indigenous people across the nation to be included in the call for a roadmap to a Voice to Parliament and a process of agreement-making and truth-telling. Despite the disappointing response from the Australian government, I think it was a beautifully executed process demonstrating the strength of Indigenous voices and leadership."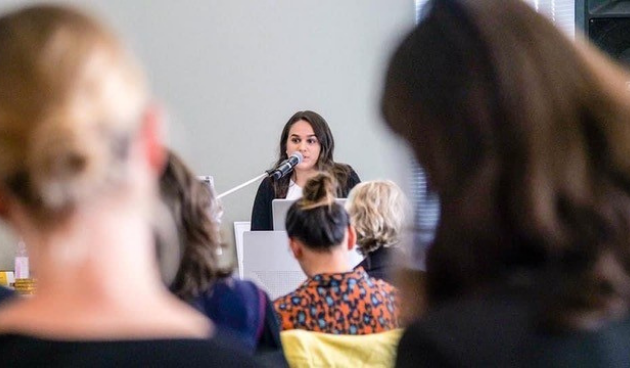 With Aurora's strong focus on building Indigenous leadership, and with more Aurora scholars than ever trailblazing new pathways for Indigenous students and guiding the paths for the next generation, it's important to understand from Indigenous leaders like Chloe why more Indigenous people should be in positions of decision making and power.
Chloe believes that Indigenous people are vastly under-represented in all platforms across the nation.
"Far too often we see non-Indigenous Australians making decisions and implementing policy that significantly impacts our communities, most of the time with little to no consultation with community.
This consequently perpetuates the disadvantages that Indigenous people continue to face. Australia still fails to recognise what we can bring to these platforms, and far too often it is seen as a tick-box exercise. Our young people need to have role models that they can look up to. This is more than just seeing an Indigenous person in a particular leadership role, it's about seeing that person receive genuine support in their role rather than having to fight racism and constantly justify being in that position."