Brionee Noonan, Intern
A conversation with Brionee Noonan
You are now a Policy Advisor to Minister Chansey Paech (NT Government). What has your experience been like so far in this role?
I commenced my role as a Senior Policy Advisor to Minister Paech in December 2020, after working for the Aboriginal Peak Organisations of the Northern Territory for eight years. Minister Paech represents the seat of Gwoja, which holds the Local Government; Indigenous Essential Services; Arts, Culture & Heritage; Remote Housing and Town Camps; and Central Australian Economic Reconstruction portfolios. I advise Minister Paech on the remote housing portfolio.
I was apprehensive at the start of my employment because I didn't think I had the knowledge or expertise to be working at a high policy level, but nine months on, I am really enjoying the role and my confidence is growing. I love working for a passionate Indigenous Minister, who is young, progressive and understands the issues we face in the Northern Territory, because he has lived them. I love travelling out bush to homelands and remote communities and engaging with people, particularly in taking the time to listen to people's concerns and helping them find solutions. I love working with a committed team, because at times, our work can be stressful, but with the support of our team, we can pull through.
The best part of this role though is being in the community when Minister Paech hands over new houses. Words cannot describe just how joyous families are when they get the keys to their new homes. And the children who race excitedly through each room in the house, trying to find their own bedroom, perhaps for the first time, is just pure happiness. That's why I work for Minister Paech.
You are working with Aurora as a partner to host interns. What value do you see in the internship program for Indigenous interns, both for the intern and the host?
In my role as Coordinator for the Aboriginal Peak Organisations Northern Territory (APO NT), I had the opportunity to host and supervise a number of Aurora interns. It has been great being on the other side of the Aurora experience. It can be daunting starting a new position, especially if that role is in a new town and the feelings of contained excitement and nervousness can be compounded when this role is your first real professional position. That's what it was like for me when I first started my Aurora Internship.
As a supervisor, I think it is important to engage with the individual before their internship commences, and throughout the internship, not just to check in on work-related matters, but to let the intern know that they are supported, and that they have a friend, if they need it.
As a host, the Aurora interns have breathed new life into APO NT and it has been exciting to witness. Interns from varied academic backgrounds bring with them, new skills, new ways of working and new ways to look at a problem and address solutions. Working in policy and advocacy, sometimes we become stuck in a cycle, working the same way we always have, and we become complacent and stagnant in our work. Aurora interns refresh our thinking, making our policy and advocacy work more effective.
APO NT also provided interns with exposure to on-the-ground policy issues that effect and impact Indigenous people in the Northern Territory. For some interns, this could be confronting, given that this may be their first real exposure to the disadvantages and inequalities that Indigenous people face. As a host organisation, it was a valuable opportunity to educate university students on the rich and vibrant culture of Indigenous people in the Territory, while also educating students on the need for structural systemic change across widespread policy areas and how to best advocate for this change.
I think students also get a lot out of their internship through Aurora, because students are provided real opportunities where they can lead projects. For example, our interns at APO NT are coordinating submissions to government enquiries, often on behalf of a collaborative network of Aboriginal and non-Aboriginal organisations. This can be a rare opportunity in the world of internships, but APO NT sought to nurture the student to become a well-rounded, culturally aware policy officer in a thriving Aboriginal organisation, which underpins the Aurora Internship Program. It is also fulfilling to see that some of our past Aurora interns, have continued working with APO NT member organisations. It makes me smile to call them my colleagues here in the Territory!
Aurora focuses on building Indigenous leadership. What does leadership look and feel like to you and have you personally experienced any great examples of Indigenous leadership?
Indigenous leaders have had a significant impact on my life and my professional journey, particularly strong Indigenous women in the Northern Territory, like Senator Malarndirri McCarthy; Minister Selena Uibo; Ms. Ngaree Ah Kit MLA; Dr. Josie Douglas; Ms. Theresa Roe; Ms. Leanne Liddle; Ms. Marion Scrymgour; Ms. Mandy Taylor; Ms. Olga Havnen and Ms. Priscilla Atkins. Even our younger leaders are continuing to inspire, instil hope and show me every day what is possible, like Ms. Jasmin Onus, Ms. Nicole Brown and Ms. Mililma May.
Leadership to me is about continuing to work hard, with the resources you have, standing up for the issues that you believe in, motivating and guiding others around you; and having the courage to envision a better future, even when you encounter obstacles and hardship. This sounds like a lot, but often leaders in the community possess these traits without seeming extraordinary; it is just every day for them. The women I have mentioned above may have achieved many accomplishments between them, but it is the fact that they show up every day and strive for better outcomes for Indigenous people, that resonates with me as real leadership. It is important to acknowledge these leaders; and our everyday community leaders; and recognise the incredible, and sometimes seemingly invisible work that they do. This is why it is important that the Aurora Internship Program continues to build and strengthen Indigenous leadership, so that future generations can make decisions for the benefit of our people.
Why do you think it's important more Indigenous leaders are in positions of decision making?
John Paterson, the CEO of the Aboriginal Medical Services Alliance of the Northern Territory, always claims that "It's about putting Aboriginal people back in the driver's seat" and I have to agree. For so long, Indigenous people have been sidelined. Our voices have been quashed when it comes to making decisions on policies that affect our people; and not for want of trying. In the Northern Territory, Aboriginal people are still dealing with the harmful legacy of the 2007 Intervention and subsequent Stronger Futures legislation. Fourteen years on, Indigenous people are working to reclaim their power and their seat at the decision-making table.
With the establishment of the Coalition of Peaks, it is evident that the Australian Government is attempting to revise the inclusion of Aboriginal people in decision making, but it definitely needs to be taken further. One avenue would be to support the Uluru Statement from the Heart to ensure that Aboriginal people are included in all aspects of the decision-making process, through the First Nations Voice to Parliament, the Makarrata Commission and the journey of truth telling and healing.
We are going to need to grow more Aboriginal leaders and we can do this fundamental work through the Aurora Internship program. In a safe learning/work environment, Aboriginal interns can be provided support and guidance, where they can develop fundamental tools and skills to facilitate and participate in decision making on issues that affect them and their communities. For non-Aboriginal Aurora interns, they can be provided the education and cultural awareness from working alongside Aboriginal peers in an Aboriginal organisation. I think their participation in this program is in the hope that they will understand the plight of our people, will become our allies and will step aside so that Aboriginal people can sit at the decision-making table; acknowledging that Aboriginal people are the best-placed people to make decisions on the issues that affect them and their communities.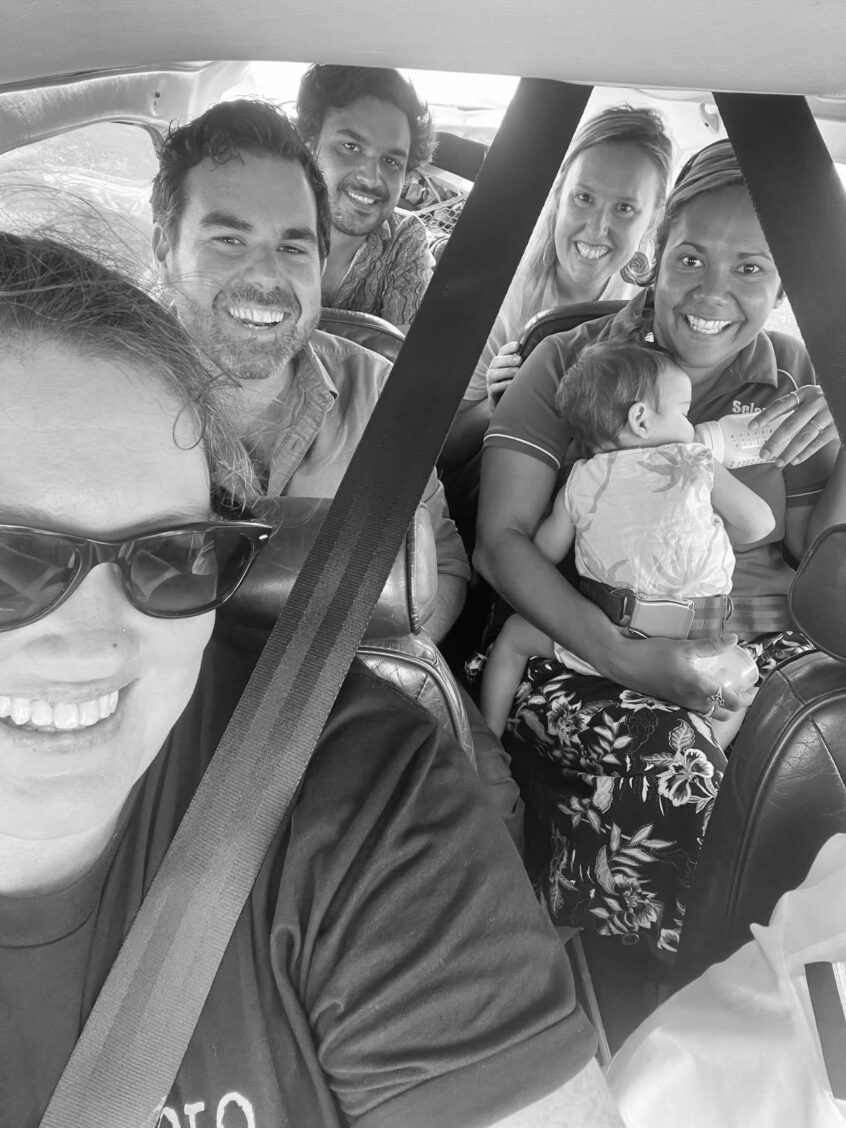 You interned for the Indigenous Land and Sea Corporation as well as the Local Court NT. Can you tell us what your experience was like for both internships and how it has impacted you?
I met some students in Darwin who were completing their Aurora Internship Placements in 2006 and I was captivated by the type of work they were experiencing, and I felt compelled to apply for the opportunity.
I was excited to be selected for a six-week placement in 2010 at the Indigenous Land and Sea Corporation in Adelaide. Under the supervision of Paul Hayes, I contributed to a research project examining the corporate health of Indigenous title holding bodies; drafted clauses for contracts, engaged with stakeholders and conducted research and briefing notes. I also had the opportunity to shadow Paul Hayes to the Federal Court for a hearing, which I found to be very exciting as a law student! Working with the Indigenous Land and Sea Corporation provided me with a broad understanding of the breadth of work ILC does for Aboriginal people in the acquisition of property through to land management. The education I received on Prescribed Body Corporates has stayed with me to this day, and has been useful when working alongside the Aboriginal and Management Program for APO NT and in my current role.
I completed a second placement with Aurora with the Chief Magistrate of the Northern Territory in 2012, which at the time, was Hilary Hannam. I was studying a Graduate Diploma of Indigenous Knowledges at Charles Darwin University and jumped at the opportunity, and it was an amazing experience. I attended a bush court in Gunbalanya in the West Arnhem region, researched, drafted scenarios for consideration at a sentencing workshop for Magistrates, and provided briefing papers on a wide range of law and justice issues, which were pertinent to the Chief Magistrate at the time.  I never thought I would have the opportunity to work closely with a Chief Magistrate, or other Magistrates.
I am very grateful to Aurora for providing me with these opportunities while I was studying. My internships with the Indigenous Land and Sea Corporation and with the Chief Magistrate gave me a real insight to legal work and the legal profession. Aurora broke down barriers and allowed me to consider my professional journey for the first time and what that could look like.
Aurora has had a significant impact on my life, and I am humbled to be considered for this interview. I will always have a strong relationship with Aurora and its alumni, because without Aurora, I wouldn't be where I am now. I will continue to support the Aurora Internship program, so that other interns can have the same opportunities and break down barriers themselves.