Ash Walker, Charlie Perkins Scholar
Ashley Walker is a Dhurga/Dharawal man belonging to the La Perouse Aboriginal community in coastal Sydney. Ash is a 2017 Charlie Perkins Scholar, and completed a Master of Business Administration with Distinction at Oxford.
Ash is the Investment Manager at Yamanah Investments, a subsidiary of the Indigenous Land and Sea Corporation (ILSC), and is also a Strategic Adviser for the La Perouse Local Aboriginal Land Council.
We asked Ash a few questions about his time overseas pursuing his postgraduate study andhe also shares his thoughts on the importance of keeping connected to community. Here's what he had to say.
You attended the Aurora Study Tour in 2016 and studied as a Charlie Perkins Scholar in 2017. What impact have these overseas experiences had on you?
Studying an MBA at Saïd Business School at the University of Oxford was a real gamechanger for me. In addition to learning a range of new skills, it was also the catalyst for allowing me to transition out of corporate law into a role at Boston Consulting Group. My time spent at BCG gave me a whole new toolkit which I have been able to use for the benefit of my community.
What were some of the biggest learnings from your time at Oxford that you were able to apply once you returned to Australia?
The technical skills I learnt across a range of different courses were extremely useful in my post-MBA role at Boston Consulting Group. In addition, I was exposed to a number of strategic decision-making frameworks which have been useful in my board roles at the Gujaga Foundation and the Australian Institute of Aboriginal and Torres Strait Islander Studies. More broadly, the MBA has rounded out the skillset I need to continue working towards establishing economic independence for my community.
How important was having other Indigenous students around you while you were studying overseas?
It was great to build relationships with other likeminded Indigenous students to share ideas and build a strong network for when we all return home. It was also helpful to have some Indigenous students who were already in Oxford when I arrived to show me the ropes.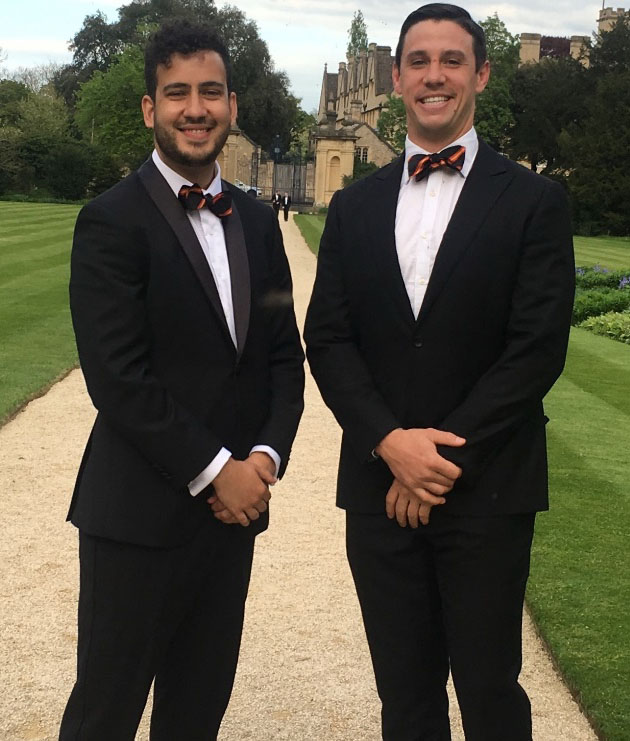 What would you say to other Aboriginal and Torres Strait Islander students thinking of undertaking overseas postgraduate study?
My advice would be to spend some time working out what your long-term career goal is and how this will benefit your community. If undertaking overseas postgraduate study moves you closer to that goal then go for it.
What do you think makes Aurora unique?
Aurora is unique because it focusses on unlocking the potential of Indigenous students and has created pathways for these students to excel both locally and internationally.
We talk about the importance of connections to community. What does this mean to you?
It is my view that connection to community is at the very core of Aboriginal identity. My connection to my community at La Perouse gives me a sense of strength and belonging which is difficult to articulate. It also serves as a reminder that I have a cultural responsibility to use the many opportunities I have been given to work towards the advancement of my people. I am thankful to have the opportunity to use my education and professional experience to contribute to my community's progress on a daily basis.
Could you share a memorable experience from your time at Oxford?
That is tough as I had so many memorable experiences in the year I spent there. If I had to pick one it was probably the day where myself and another Australian MBA, Benedict Corbett, played a game of rugby league against Cambridge in Cambridge, then caught a train straight to London to attend the Oxford Polo Club White Tie Ball in the Tower of London. I'd never imagined doing either of these things so doing them both in the same day was surreal.